Bitcoin's Probable Price Action in 2023: Analyst's Insights
Discovering Bitcoin's probable price movements for the remaining weeks and months of 2023, cryptocurrency strategist Benjamin Cowen shares his analysis with you. According to Cowen, Bitcoin (BTC) is very likely experience a single-digit percentage fall before embarking on a relief rally to complete a bearish pattern.
Cowen predicts that Bitcoin (BTC) may soon surpass the previous low of $24,800, followed by a probable relief rally leading up to the death cross. Nonetheless, any price surges during this period are expected to be short-lived, resulting in lower highs. Consequently, Cowen believes that Bitcoin (BTC) will likely continue its downtrend for the rest of the year.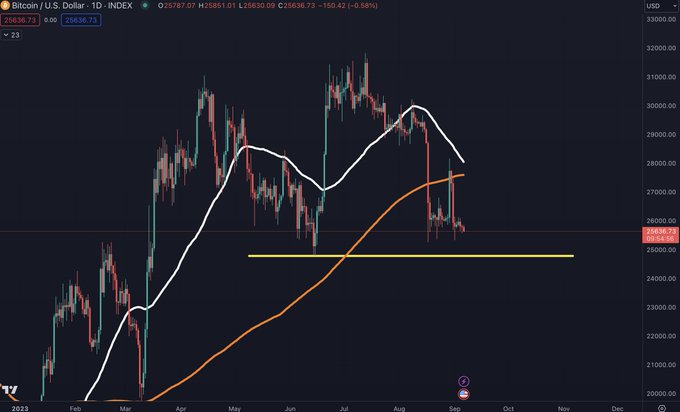 Currently, Bitcoin (BTC) is currently worth $25,724. In a separate video update, Cowen outlines the formation of a death cross, indicating a resemblance to a similar signal observed in Bitcoin's previous pre-halving year. The upcoming Bitcoin (BTC) halving is projected to take place in April 2024.
Cowen emphasizes that the term "death cross" could be sensationalist, as historically Bitcoin (BTC) tends to experience a price surge leading up to it. By examining Bitcoin's price action in 2019, Cowen finds striking similarities to the present situation.
Hot Take: Bitcoin's Probable Relief Rally
Although while Bitcoin's price movement remains uncertain, Cowen's analysis suggests the likelihood of a relief rally. Nonetheless, it is important to consider the short-lived nature of any price surges and the overall downward trend projected for the rest of the year.
Daisy Hodley emerges as a luminary blending the roles of crypto analyst, devoted researcher, and editorial virtuoso into a harmonious symphony. In the realm of digital currencies, Daisy's insights resonate with an exquisite resonance across a diverse spectrum of minds. Her adeptness in decoding intricate threads of crypto complexities seamlessly intertwines with her editorial finesse, translating intricacy into a captivating melody of understanding.