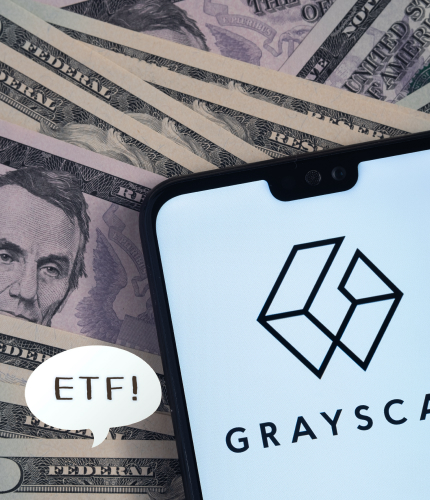 The Momentum Grows: Grayscale Urges SEC to Approve Bitcoin (BTC) Spot ETF
Grayscale, supported by its law firm Davis Polk, is actively pushing for the approval of a Bitcoin (BTC) Spot ETF by the United States Securities and Exchange Commission (SEC). In a recent letter, Grayscale emphasizes the efficient use of regulatory resources and outlines the maturity of the cryptocurrency market, advocating for the understanding of this innovation.
Davis Polk, Grayscale's law firm, strongly endorses the ETF, stating that it would serve the best interests of investors and be the optimal use of the Commission's resources. This endorsement reflects the industry's confidence in the  capacity of a Bitcoin (BTC) Spot ETF.
The Concerns and the Counters
Although while Grayscale presents compelling arguments, the SEC remains hesitant due to concerns about dangers associated with digital currency investments, such as market manipulation and regulatory oversight. Nonetheless, Grayscale claims that their recent court victory over the regulator diminishes the SEC's grounds for further delay or denial of their Bitcoin (BTC) ETF conversion proposition. This victory brings renewed optimism for the SEC's approval.
A Landmark Shift in the Regulatory Landscape
If the SEC grants approval to Grayscale's proposition, it wouldn't simply be the approval of another financial instrument. Instead, it would signify a whole lot of milestone in the regulatory landscape of digital assets in the United States, potentially paving the way for further innovations and wider acceptance by the mainstream.
Hot Take:
The push for a Bitcoin (BTC) Spot ETF by Grayscale and its law firm Davis Polk outlines the growing momentum for digital currency innovation. With their compelling arguments and recent court victory, there is hope that the SEC will recognize the  capacity of this financial instrument and contribute to the broader acceptance of digital assets.
Cyrus Dailey stands as a luminary gracefully weaving the roles of crypto analyst, tenacious researcher, and editorial artisan into a captivating narrative of insight. Amidst the intricate world of digital currencies, Cyrus's perspectives resonate like finely tuned melodies, captivating curious minds from a myriad of perspectives. Her ability to decipher complex threads of crypto intricacies melds seamlessly with her editorial finesse, transforming intricacy into a harmonious composition of understanding.